The next time you walk out the front door of your establishment, look down at the side walk and ask yourself if it is as clean as it needs to be. If you were to think about what is on that sidewalk, it is really pretty disgusting knowing that it is gum. Do you have any idea how many times a customer has tracked gum and bacteria into your place of business on their shoes? Not exactly healthy for your other customers or employees is it?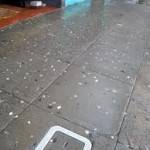 What to you think of when you see an entry to a business like the one pictured on the right? Your customers feel the exact same way.
Let me ask you a hypothetical question…
Let's say that you have two stores that are the same as far as quality, selection and pricing. They are both on your way home from work and in the same strip mall. The entry to the first store looks a lot like the one in the above mentioned photo, the sidewalk is covered with gum. The entry for the second store is clean and has no gum stuck to it.
Which one store would look more inviting to you for your shopping?
We would be willing to bet that you would pick the clean one because it looks more inviting and first impressions are the key to gaining new customers.
K & J Pressure Cleaning offers commercial maintenance services, like gum removal, that are intended to keep your place of business in the best shape possible. K & J has invested in the best pressure cleaning equipment available. We use a HOT WATER pressure washing system that can meet any of your washing demands. By utilizing the latest pressure cleaning equipment and procedures, this ensures that you will get a professional exterior cleaning every time and a reliable pressure cleaning contractor that can back up their service.
Thanks for your interest. We will get back to you as soon as we can!