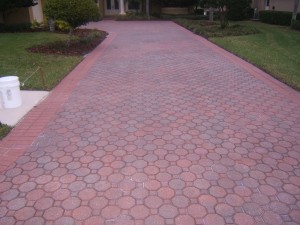 Bacteria, mold and fungus thrive on concrete, stone and brick surfaces. Not only does a dirty driveway or sidewalk lower the curb appeal of your home, but it can be a health risk for children and pets. Especially those that have a compromised immune system.
K & J Pressure Cleaning offers cleaning packages as well as sealing services for concrete, stone or brick driveways and sidewalks. Sealing your sidewalk or driveway surfaces will prevent premature aging. Your concrete, brick and stone will not only look great, but it will also require less maintenance.
The American College of Occupational and Environmental Medicine Says;
"The presence of mold adversely affects human health through three processes: Allergy, Infection and Toxicity."
Driveway and sidewalk cleaning is a must for the health of your family or pets. Not to mention that is looks GREAT!
Thanks for your interest. We will get back to you as soon as we can!