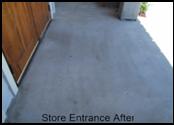 It does not matter if you  need your dumpster pad cleaned or something the size of a sports stadium, K & J Pressure Cleaning has the experience and equipment to get the job done.
K & J Pressure Cleaning has purchased the best equipment available. We utilize state of the art equipment that allows to clean with either hot or cold water. This helps us to provide you with superior professional results over those that do not have the same abilities.  Hot water is a very helpful in cleaning surfaces such as sidewalks, dumpster pads and drive through lanes.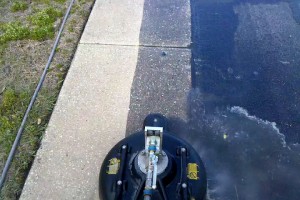 We use only commercial grade equipment and cleaning agents applicable to the surface being cleaned and the contaminate that needs to be removed. Hot water also allows us to quickly and efficiently remove gum from sidewalks. Our cleaning services include a wide variety of specialties that keep you from having to see out multiple vendors to perform the work that you desire.
Cleaning concrete can be on of the most challenging disciplines of the pressure washing trade. Concrete is a porous material that allows dirt and other debris to penetrate more than other surfaces. Using the incorrect nozzles or pressures can leave you with very poor results. Just as important as the higher pressures that commercial pressure washing equipment can achieve, is the amount of water flow. Another item that assists in the proper cleaning of concrete is the ability to heat the water. Hot water and a higher volume of water that is offered on commercial pressure washers allows us to lower the overall pressure, giving you spectacular results with no damage.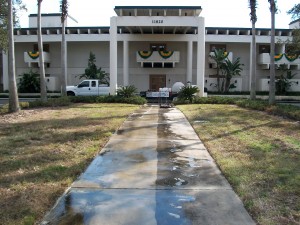 With a cleaning service that requires us to remove gum from sidewalks, dumpster pads or heavy oil stains, hot water is the only effective way to safely clean your concrete. Contractors that use only cold water are using much higher pressures and normally causing damage to the concrete by removing the cream from the surface exposing the aggregate below. Rest assured that the technicians at K & J Pressure Cleaning will get the job done quickly, safely and effectively.


Thanks for your interest. We will get back to you as soon as we can!